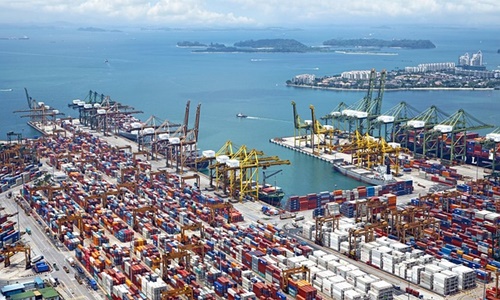 According to recent government data, for the 14th time in a row Japan has recorded a trade deficit, with exports and imports inflating to record highs, as the decline in the value of the yen led to a rise in the costs of food, energy and other products.
As per the Finance Ministry, in September, imports totaled $72.7 billion (10.9 trillion yen), up by almost 46% compared to the same month last year amidst the soaring oil and gas costs.
Apparently, on a yearly basis, the imports in the country have grown for 20 months straight.
However, the costs of imports were lower as opposed to the earlier months, hinting that some of the commodity prices are stabilizing.
On the flip side, exports totaled $58.7 billion (8.8 trillion yen), witnessing a massive growth in steel and autos. Apparently, it was the 20th straight month in the year-on-year when gains were recorded.
The Japanese yen has weakened considerably as the Bank of Japan continues its negative interest rate policy to keep economic activities advancing. But the U.S. Federal Reserve has tightened monetary policy to overcome the rising inflation pressures.
According to experts, the rate difference is resulting in the weakening of the yen. However, the Bank of Japan has mentioned that inflation in Japan is not as severe as in the U.S. and some other nations.
Until now, Japan has been attempting to keep the falling prices, or deflation, at bay.
Not to mention, the war in Ukraine and other global issues have led to rising energy costs and Japan imports all its oil.
For the record, the weak yen, in the past, benefited Japan's leading exporters, like Nintendo and Toyota, by raising the value of foreign earnings when converted into yen.
However, that perk has gradually diminished and resulted in businesses and consumers paying higher prices for energy, food, raw materials and other necessities.
Source credit - https://abcnews.go.com/International/wireStory/japans-imports-exports-balloon-energy-costs-cheap-yen-91779535