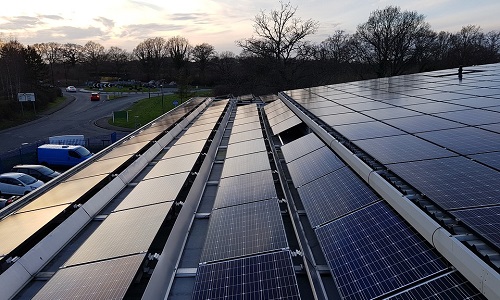 Indian renewable energy company, ReNew Power Ltd. has recently won a proposal for developing a 3 MW floating solar photovoltaic (PV) project in Visakhapatnam, Andhra Pradesh, marked as one of India's largest floating solar PV projects.

As per an official press release, the company claims that the floating solar PV project will have the capacity to annually generate about 4.2 million units of clean power, eventually offsetting over 3,960 tons of carbon emissions every year.

Reportedly, ReNew's recent win comes on the heels of its participation in a bidding process led by the Greater Visakhapatnam Municipal Corporation (GVMC) for installation of a floating solar PV project at Meghadri Gedda reservoir in Visakhapatnam.

Sources close to the contract state that the project would be financed by GVMC through a grant received from Asian Development Bank under its Urban Climate Change Resilience Trust Fund.

Proud with the recent win, Prabhat Kumar Mishra, ReNew Power's Head of Distributed Solar & Offtake said that floating solar PV systems are an emerging technology trend with huge potential and their firm is delighted to be associated with the project at the Meghadri Gedda reservoir, Visakhapatnam.

The company believes that floating solar power plants can play a critical role in a country like India which has abundant water bodies. Moreover, multiple factors such as higher efficiency and low installation time would contribute towards the floating solar PV systems' growth in the thriving region. Mishra added.

Regarding the system's capability, industry reports cite that floating solar panels could generate up to 300 GW of power by utilizing as low as 10-15 percent of India's total water resources.

Meanwhile Mishra, while concluding the press release, said that their collaboration with GVMC in the recent win will validate ReNew's commitment to deploy advanced solutions for generating clean energy that effectively meets India's growing energy needs.