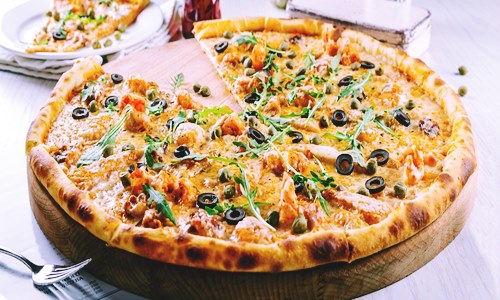 Fast food giants KFC and Pizza Hut reportedly teamed up to create a distinctively flavored pizza called the Gravy Supreme, in a bid to enhance National Pizza Day celebration on February 9.

According to sources familiar with the matter, the Gravy Supreme is an amalgamation of ingredients that the two eateries are best at, namely a Cheesy Bites pizza smothered in KFC gravy, adorned with toppings such as popcorn chicken pieces, sweet corn, mozzarella, and garlic sprinkles.

The distinct and quirky flavor is presently not available to the public, since it's still undergoing tests and being trailed by the Chief Innovators at Pizza Hut Delivery and KFC to ensure that the final product is as tasty as it sounds, cited credible sources.

However, the companies claimed that if the demand for the pizza is high enough, then it will be introduced in the stores throughout the nation next year.

A spokesperson representing KFC UK & Ireland was quoted stating that pairing KFC's famous gravy and popcorn chicken along with Pizza Hut's renowned base and toppings is a match made in heaven and a thing of absolute beauty.

According to a spokesperson for Pizza Hut, the fast food chain always tries to deliver its customers what they want and there's nothing better than a Gravy Supreme, as it merges the best of the two restaurants to create a perfect pizza.

Speaking of the social media buzz, one of the users termed the Gravy Supreme as a game changer, while another claimed it to be the dream of many.

In addition to Pizza Hut, several other pizzerias including Domino's, Pizza Express, and Papa John's have also introduced mouth-watering deals for the big day. For instance, Domino's is offering its customers a chance to win a year-long supply of pizza on retweeting the company's recent tweets, while Papa John's customers can avail 33 percent discount on spending £30 or more on pizzas or sides, reported sources.