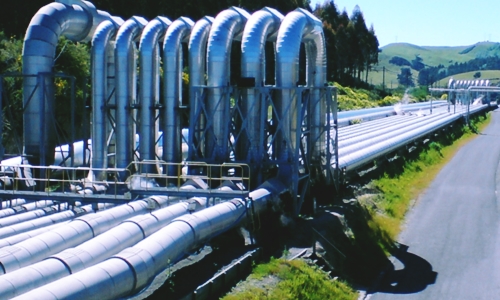 ExxonMobil has reportedly made it to the front page for having signed a letter of intent, agreeing to support the planned Permian Highway Pipeline (PHP) Project. As per sources, the firm will now join EagleClaw Midstream Ventures, LLC, Kinder Morgan Texas Pipeline, LLC (KMTP) and Apache Corporation that are already a part of this project.

As per the agreement, a contract for approx. 450,000 Dth/d (dekatherms per day) capacity on the pipeline could be given to XTO Energy, ExxonMobil's subsidiary.

For the record, the PHP Project, valued at nearly $2 billion, is designed as an outlet for the increased production of natural gas from the Permian Basin to the emerging market along the Texas Gulf Coast. It is expected to transport up to 2 billion cubic feet per day through the 42-inch pipeline stretching for almost 430 miles, from Waha to Katy in Texas, with additional connections to the U.S. Gulf Coast and Mexico areas.

The companies expect the pipeline to be in service by late 2020, subject to the execution of proposed agreement terms and approved construction permits. The initial reports on the PHP project indicated that KMTP and EagleClaw will be the only partners, having a 50% ownership each and KMTP would be building and operating the pipeline. EagleClaw and Apache would both be key shippers on the pipeline, with each company aiming to divert up to 500,000 Dth/d to the project.

Sara Ortwein, the President of XTO Energy, expressed the company's commitment to support the development of essential infrastructure required for its intended production increase in the Permian Basin. The PHP project will offer added capacities for reliable transportation of natural gas across the U.S. Gulf Coast, Ortwein added.

Sources close to the matter informed that KMPT and EagleClaw would be holding an open season for the contracting of capacity on the PHP project. Beginning August 10, 2018, the open season will see interested parties submitting written requests to the Vice President of Business Development at Kinder Morgan Natural Gas Midstream, Dave Grisko.