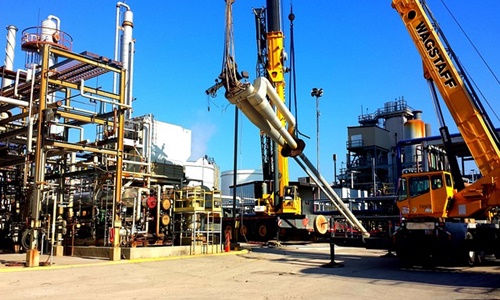 The business department of the UK has reportedly announced opening a £50 million ($60.3 million) nuclear fuel fund to boost production and promote the development of substitutes to Russian supplies.
The fund is included in a nuclear fuel investment package worth nearly £75 million ($90.4 million), of which, £13 million ($15.6 million) has already been granted to nuclear fuel manufacturers, Preston-based Westinghouse, assisting the firm in developing conversion capability for both reprocessed and freshly extracted uranium.
The nuclear fuel cycle includes an important step called uranium conversion. The investment is intended to establish capacities in the UK for converting recycled uranium, which is not presently available outside Russia. Ministers anticipate that it will increase the UK's energy security and create more export opportunities as well.
In June, the G7 leaders decided to take joint action to minimize their reliance on Russian exports of civil nuclear technology and related products. This action included expanding their uranium supplies and nuclear fuel manufacturing capacity. Russia owns around 20% of the world's uranium conversion output and 40% of its enrichment capacity.
The Energy and climate minister of the UK, Graham Stuart stated that record-level global gas prices were induced by Putin's illicit invasion of Ukraine. He also emphasized the need for greater domestic renewable power, but also for UK-generated nuclear energy, building more facilities, and boosting local fuel capability.
Stuart added that this investment package would boost the United Kingdom's energy security by securing access to a reliable and secure supply of UK-produced fuel to run the nuclear fleet of today and tomorrow, pushing out Russian control while creating more jobs and export opportunities.
As per sources, the £50 million ($60.3 million) funding will support initiatives including alternative fuel sources for light water reactors, including upcoming compact modular reactors. It will also seek to fund initiatives that produce new fuel types, including high-assay low-enriched uranium, that will be essential to provide advanced modular reactors, which are expected to start operating in the 2030s.
Source credit: https://www.theguardian.com/business/2023/jan/02/50m-fund-will-boost-uk-nuclear-fuel-projects-ministers-say