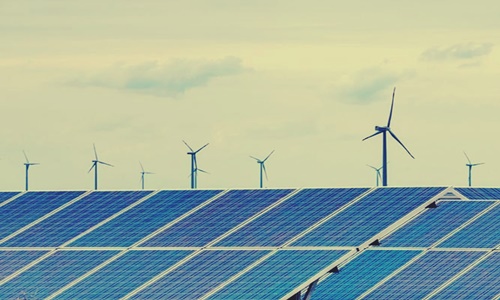 Massive investments and initiatives will arguably lead to golden era for the renewable energy sector, claim industry experts.

Memorandums of Understanding in the renewable energy sector, amounting to Rs 1 lakh crore, have reportedly been signed at the final day of Vibrant Gujarat Global Summit 2019. The investors summit, that is held biennially by the government of Gujarat to bring in new investments, this year stood witness to the state government's stance of aggressively adding impetus to the renewable energy industry, sourcing massive investments from both the private and public sectors.

The Ahmedabad-based Adani group's renewable energy arm Adani Green Energy Limited signed a deal with Gujarat Energy Development Agency to develop a hybrid park in Kutch. The hybrid park will be generating both solar and wind energy at the same location and the project will involve an investment of Rs 30,000 crore.

Suzlon Energy Limited, led by Tulsi Tanti, pledged an investment of Rs 25,000 crore for the development of a hybrid park in Kutch and Saurashtra. Torrent Power Limited, which has operation not only in Gujarat but also in Maharashtra and Uttar Pradesh, proposed an investment of Rs 5,235 crore in developing a renewable energy project Rs 3,150 crore in the development of a multiple location-based distribution network.

Solar Energy Corporation of India (SECI) in an agreement with state energy and petrochemicals department and Dholera Special Investment Region Development Authority has agreed on procuring power amounting to approximately 4,000 megawatts from Dholera solar park for a Rs 20,000 crore investment. Torrent Power also agreed on investing Rs 1,000 crore for power a distribution network in Dholera. An agreement amounting to an investment of Rs 15,000 crore has also been signed between SECI and Gujarat Power Corporation Ltd for the development of a 1,000 megawatts offshore wind power project.

Gujarat Energy Transmission Corporation Limited, the state governments power transmission arm also signed an agreement for the investment of Rs 2,190 crore for the development of a transmission network and sub-stations in Gujarat.

Saurabh Patel, Gujarat energy minister, has been quoted to say that the coming five years will mark the golden era for renewable energy in Gujarat as the government will be building hybrid parks of 30,000 megawatts in Kutch and exporting excess energy to other states.