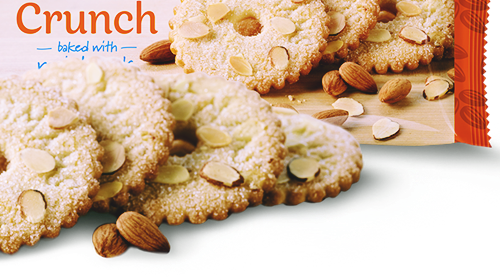 Parle Products, one of the largest selling biscuit brands of the world, recently announced the launch of Nutricrunch, a biscuit brand for the health-conscious consumer. Nutricrunch Digestive Cookies will be launched across India with each 100gm pack costing Rs 20.

Parle reportedly plans to establish a strong foothold in the premium products segment and with an ambition to consolidate its aspirational and indulgent offerings under one roof, created the Platina division in 2017. The launch of Nurticrunch and the phasing out of the Simply Good is a step towards increasing focus on healthy range of offerings by Parle.

Category Head, Mayank Shah has reportedly said that the company will shift its focus to consumers who consciously opt for healthier options on a regular basis rather than those who choose healthy products on the basis of price-based promotions. He added that Parle is also planning to expand in the super-premium category with Nutricrunch's positioning.

The Nurticrunch range will include low-sugar cream crackers, digestive cookies, digestive Marie biscuits, etc. The range will target a variety of lifestyle related problems like weight management, cholesterol management, sugar levels and nutrient deficiency.

According to Parle, the health biscuit & cookies category is growing at the rate of 12% to 13% every year and occupies a sizeable portion of the market. The health biscuit segment already has a number of established names from renowned brands such as McVitie's digestive biscuits, Nutri Choice from Britannia Industries and the Sunfeast range from ITC. Health offerings are rapidly entering the mainstream market especially in the urban areas and biscuit makers are tapping into the premium and semi premium segments to fetch high margins of profit, claim experts.

Reportedly, Parle is persevering in diversifying its portfolio and making its mark in the premium products section as a major slice of its revenue is derived from the sale of Parle G, the mass market brand. While the mass market segment is also on the expansive phase, better and faster growth margins are to be derived from the premium offerings segment, as per analysts.