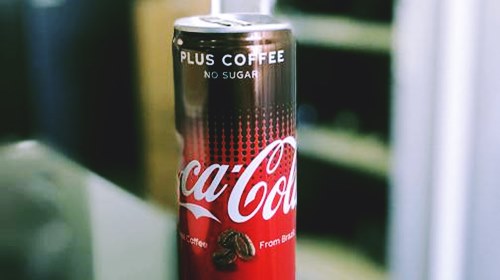 In a recent product launch in Cambodia, Coca-Cola introduced its new product, Coca-Cola Plus Coffee. The product has been previously successfully launched in Australia, Japan and Vietnam. The Coca-Cola Company owned subsidiary, Cambodia Beverage Company Limited, reportedly said that the new product is a creative fusion of the refreshing taste of Coca-Cola with pure coffee.

As per sources, the product is expected to capitalize on the thriving café culture of the country. The company added that it expects the coffee-cola fusion to become a daily companion for Cambodians as it will help to spark concentration in the morning as well as stimulate the spirit for work or study.

The new fusion drink will be available all over Cambodia in 330 milliliter cans. The drink is reported to contain 5 grams of sugar per 100 milliliters which is less than half the sugar contained in a regular can of Coca-Cola. It also claims to contain a higher concentration of caffeine with 13 milliliters per 100 milliliters which will aid in awakening the senses and stimulating the mind.

In a statement released by the company it was said that the firm's aim is to bring more choices to the Cambodian consumers. The new drink is aimed at not only quenching their thirst but also to satisfy their needs as they go around their busy schedules.

Kong Kosal, commercial director, Cambodia Beverage Company was reported to say that the release of Coca-Cola Plus Coffee in Cambodia demonstrates the company's understanding of what its customers expect and wish for in a refreshing beverage.

Based on a similar understanding, the company released the Minute Maid Refresh, a fruit juice drink last year in Cambodia.

David Wigglesworth, CEO, Cambodia Beverage Company, has been reported to say that with the new fusion, the company is now a step closer to achieving its goal of becoming the leading beverage supplier in all non-alcoholic beverages categories in the country.