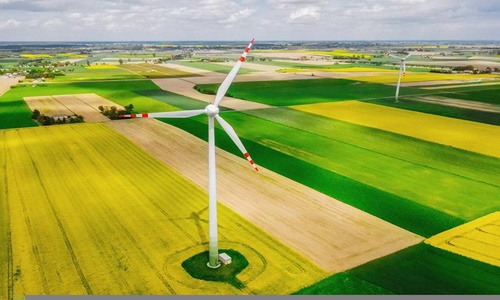 The European Union has reportedly announced plans for a tremendous expansion of wind and solar power capacities, along with a short-term boost to coal, to completely end its dependence on oil and gas from Russia as fast as possible.
While outlining the plan earlier this week, the European Commission stated that the EU needed an additional €210 billion ($222 billion) over the course of the next five years to finance the phasing out fossil fuels in Russia and speed up the green energy transition.
Senior EU officials acknowledged that the race to get off gas supplies from Russia would mean burning more coal and nuclear energy in the short term. In response to the Kremlin's invasion of Ukraine and subsequent soul-searching over Europe's reliance on Russian gas, the plan proposes upgrades to the EU's flagship climate policy 'The EU green deal'.
Reportedly, the commission has put forward that 45% of the bloc's energy should be harvested from renewable resources by 2030, a 5% advancement to last year's target of 40%. Furthermore, officials are also focusing on cutting energy consumption by 13% by the end of 2030, as compared to the 2020 figures. Earlier, this goal was set as 9% savings.
The EU official in charge of the green deal, Frans Timmermans, stated that the dependence must be ended fast, much faster than had been predicted before this war. The EU was spending over €100 billion ($105 billion) per year on Russian oil and gas up until now.
Timmermans further added that expediting the energy transition means that that money would remain in Europe, provide relaxations on energy bills of Europeans, and also not indirectly finance the barbaric war in Ukraine.
Murray Worthy, a gas campaign leader at Global Witness, stated that if the import of gas continues it continues to cause unaffordable energy bills, feed the climate crisis, and fund other repressive regimes around the world that burn fossil fuels.
To speed up the renewable energy usage, the EU needs to make it easier for clean energy firms to construct wind and solar farms. According to officials, it currently takes more than nine years to get a permit for a wind farm and over four for solar. National and local governments would have to act quickly in order to change planning laws.
Source credit: https://www.theguardian.com/environment/2022/may/18/eu-plans-massive-increase-in-green-energy-to-rid-itself-of-reliance-on-russia